Case Studies:
---
1.0- Working in retail


My first case study is a relaxed career prospect. My main goal throughout my life will always be to make Photography work, and having the money to do so is very important. Aswell as photography I also have a passion and interest in fashion (especially streetwear) and my last job was working at Ted Baker. I would love to work in a shop in Cheltenham (hometown) called The Union Project, a streetwear, fashion and home store where most of my wardobe was bought from! I would love to work here and use the money to fund personal work for maybe 6-8 months and save a bit so I could move back to Bath.

They currently have a vacancy that I would apply for at the end of summer (if still available) as a Menswear store assisstant. The process of applying involves emailing a CV and cover letter to chris@theunionproject.co.uk (manager). The roles desirable skills include: A natural intrest in fashion and sustainability, highly confident and quick learner with a 'can do' attitude. From working in retail before, and it being higher end fashion I already possess the experience of deaing with different types of customers, stock room management, till trained and general job roles around store (cleaning, standards etc.). I am already confident in the interview process of a retail store, having multiple jobs before in this sector I feel confidence I would be able to answer questions tailored to retail and sustainbility clearly and professionally.

I spoke to my previous manager at Ted Baker and he gave me some tips when being interviewed. It was good to have a chat with someone who has done this for years now and he was very upfront and honest with me about what makes a good candidate.

1. Speak clearly and maintain good eye contact- this shows you are both confident and good at engaging in conversation.
2.Dress appropriatly but honestly- dress for the type of store but also stay true to who you are and your own style, this will come accross that YOU are YOUR own person and make decisions about fashion on the daily.
3. Punctuality!- be 5 minutes early to every step of the interview process, clear the day if you have to.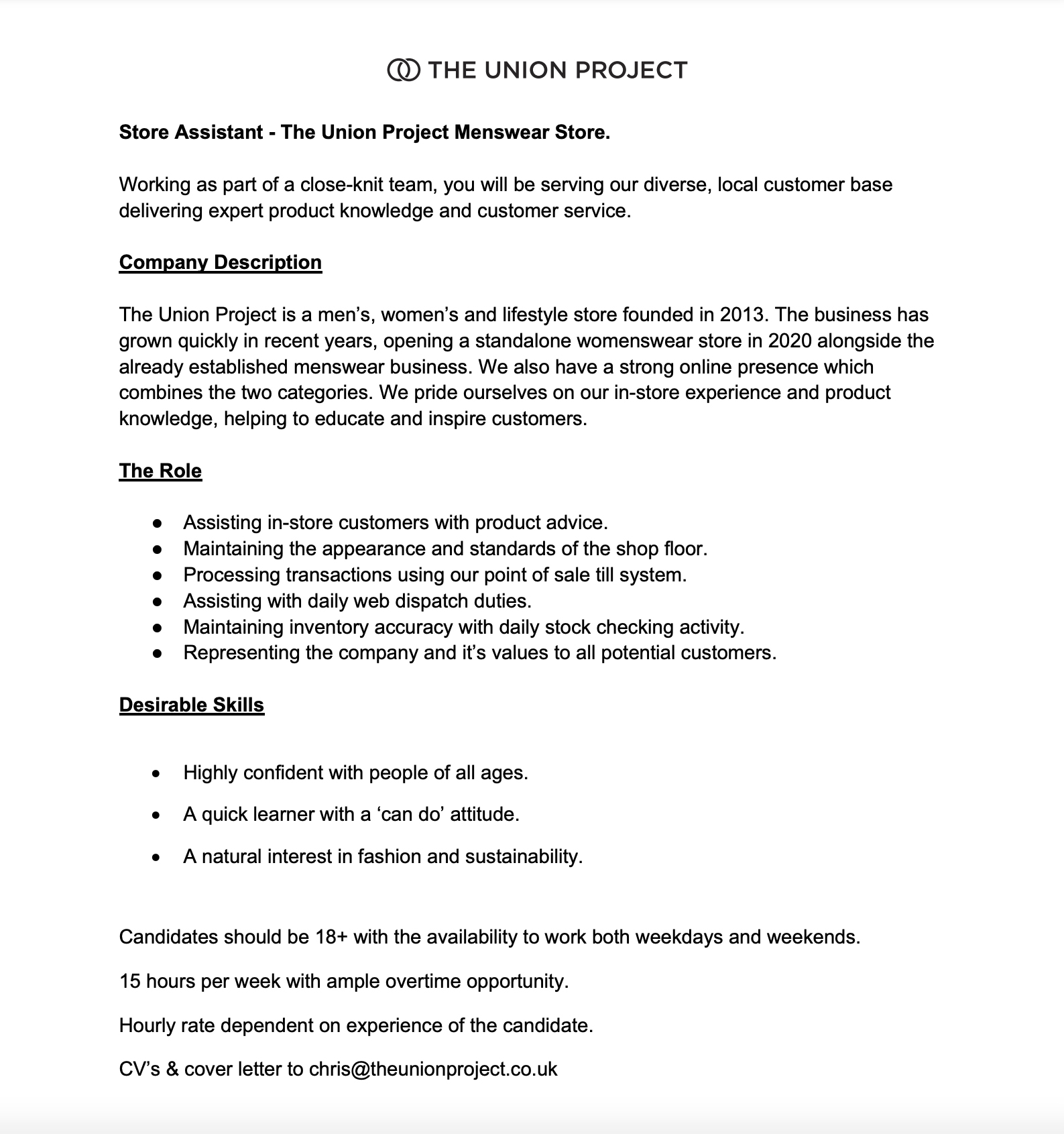 The application states that the store is both mens and womanswear, I have experience in both and so I would be able to adpat to changing quickly from departments.
Online buying is a huge part of retail at the moment and it is important to understand how stores manage this, I also have a lot of experience with online deliveries and how they work.
---
2.0- Lecturer

I think that a life long dream of mine has always been to become a teacher of some sorts, and in more recent years a university lecturer, preferably in photography or something like CAP. I understand that alot goes into becoming a part time lecturer, but it give me alot of hope that Sadie is starting AL work with us as she isnt too far ahead in terms of time from us. My first goal would be to complete a masters, and I am already interested in doing a MA in photgraphy either at UWE or Bath Spa. This would involve applying though an application process, submitting a portfolio and attending one or more interviews, these interviews involve discussion about future plans for producing work; which is why I would wait a few years before applying to do an MA in order to establish a good grounding for making work and what direction I am heading in. Neither require a previous undergraduate degree in photography but it supports your application to study at MA level in photography.

To study at UWE for example the fees for one year are £7750 with no standard student loan, so it would be vital that I was comfortable earning money on a side job or have saved up enough money to suppot myself as a postgraduate student. During my postgraduate study I could be offered work after my MA to become a graduate teaching assistant or Associate lecturer which would be ideal, but I would need to do a PGCE in order to secure a stable income as a university lecturer. This would involve a mix of university studies and teaching practice. The course takes a year, or two years part time. It's not designed to teach you subject knowledge, that is what your undergraduate degree is for.

I feel I really have a passion for teaching others, just looking at how my lecturers have helped me to grow and guided me along a very uneasy path at some times really inspires me to do the same, if I could have two passions in life they would be photography and teaching.


---
3.0- Interailing


My third option for after uni is interrailing. Brit and I are already going interrailing for the second half of this year and I am really excited to actually see some of Europe. Travvelling has always been a fear of mine I get bad anxiety from it, but recently I have had the burning desire to go out and see the world! During our time interrailing we both plan to get part time jobs as bartenders or some sort of holiday work. This definitely comes at a risky cost of where we stay to do it but the bottom line is to get as much experience in another country working as possible! It is a completely different way of life and something that I am 100% willing to throw myself into head first. I cannot wait to meet new people, learn new languages and try different things!

There is one bar in Nice, France, where we used to spend our family holidays and we know the owner of the bar there. He had said that I was always welcome to come and work there or even stay with his family if I came back, and I recently called him up to ask and he very gladly said yes! He asked me over the phone about my previous experience bartending and waitering and I had worked in a bar when I was 17 serving drinks and waitering around the pub for a year. So he said I was always welcome to come and work there and to simply give him a call with some dates when I felt ready!

I feel like this option is good for general life experience and confidence, not necessarily earning money. But I am the type of person not too really care about how much money I am earning I would rather be gaining valuable experience and having a great time than earning loads and having a shit job.

(they do a banging sangria and red pesto humous!)